Equflow Single-Use Flow Meters
ProcessHQ is proud to introduce this unique flow measurement solution to the bio-tech market. The Equflow turbine flow meters offer a wide array of features and are uniquely suited for  many bioprocess flow measurement  challenges, particularly in single-use, disposable applications. The sensors are available in two sizes, covering a wide range of flow and are designed to be easily inserted into the accompanying electronics to facilitate their use in disposable process assemblies.
Please contact ProcessHQ to discuss your specific application requirements.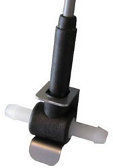 PVDF Flow Meter Specifications
USP Class VI compliant PVDF flow cell with complete lot traceability and certification
Versatile 5-30 VDC powered IR electronics produce pulse signal proportional to the flow, easily retransmitted and processed
2 sizes provide wide flow range coverage
Factory calibrated with flow cell specific K-factor
Clip mount electronics for easy flow sensor interchange for short runs
Tube holder mount for added mounting stability
Wide array of sterilization choices for the removale flow cell, including:

Gamma Irradiation (up to 50 kGy)
Autoclave
ETO
CIP/COP

Versatile single / dual-channel flow monitor and controller available from ProcessHQ, see data sheet (pdf)
General Process Specifications with water at 20º C / 68º F
Model
0045
0085
Inner Diameter (mm)
4.7
9.3
Flow Range (L/min)
0.03 - 2.00
0.3 - 20.0
Accuracy (electronics)
1% of reading
1% of reading
Repeatability
< 0.15%
< 0.15%
Wetted Parts
USP Class VI PVDF
Ruby Bearing
USP Class VI PVDF
Ruby Bearing
Tube Connection
7mm hose barb
12mm hose barb
Overall Length (mm)
53
62
Operating Temperature Range (℃)
-20 to 80
-20 to 80
Maximum Pressure a 20 ℃ (PSI)
360
290
Viscosity Range (cSt)
0.8 - 10.0
0.8 - 10.0
K-factor (water, pulse/L)
100,000
4,500
Power Supply (VDC)
5-30
5-30
Output Signal
5-30VDC square wave
5-30VDC square wave
Power Consumption
34 mA at 5V
34 mA at 5V
Electrical Cable
1m PVC / 3.5mm plug
(CF for options)

1m PVC / 3.5mm plug
(CF for options)