Burns Engineering Sanitary Temperature Instrumentation
Burns Sanitary RTD and thermocouple designs offer flexibility for various installations, standard and precision accuracy, and decades of experience across the sanitary industries.  All Burns Sanitary products are designed with the criteria core to the industry in mind;  ASME-BPE, 3-A, SIP, CIP, and electro-polished cleanability. 
Please contact ProcessHQ to learn more about the Burns Engineering line of temperature measurement solutions or view the following sales and technical literature: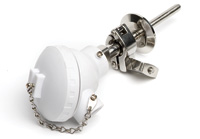 Series S Sanitary Sensors
Series S sanitary sensors are highly accurate and reliable temperature sensors. Perfect for applications in pharmaceutical, biotech, chemical and food and beverage markets.
Series S N.E.T. Solutions
Originally custom-designed to meet the stringent needs in the biotechnology industry, Burns Engineering's patented No Exposed Thread (N.E.T.) Series of sensors reduce the time and complexity associated with cleaning the assembly.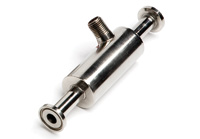 Non-Intrusive RTDs
The SNI Series is ideally suited for use in small diameter piping where temperature measurement is critical, but direct immersion temperature probes cannot be used.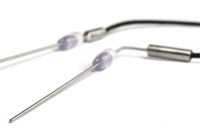 Bioreactor Probe
A high quality Platinum Resistance Thermometer used for monitoring and/or controlling the temperature of the contents of a disposable bioreactor bag.
Autoclave Sensors
Burns Engineering autoclave sensors are sealed PRT temperature sensor assemblies that eliminate all of the problems associated with autoclave use. The harsh steam and vacuum cycling environment found in an autoclave can force moisture into most PRTs resulting in incorrect, low temperature readings and reduced life. These RTDs are completely sealed including the cable, preventing moisture from entering the sensor
Thermowells
At Burns Engineering you'll find standardized wells of sanitary, threaded, flanged and socket weld types, as well as custom thermowells.
Temperature Transmitters
3Our RTD and thermocouple transmitters and indicators are proven rugged and provide the flexibility your process demands. A variety of hazardous location approvals, HART communication, connection head and panel mount options, as well as sensor matching capability deliver tailored solutions to meet your specific needs.