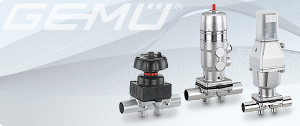 GEMÜ Valves, Inc. is committed to the pursuit of quality and excellence in the development, production and manufacturing of engineered diaphragm valves through consistently providing a level of service exceeding the expectations of its customers, employees, distributors and representatives until it becomes a standard.
GEMÜ is known as the market leader in developing, manufacturing, and selling engineered diaphragm valves. GEMÜ products are well known for their modular design, high performance, and superior quality. With the use of the most modern methods of organization, every inquiry and order is carefully considered so that the customer can be offered the most suitable GEMÜ product to match his/her requirements. 
Please contact ProcessHQ to learn more about the GEMÜ line of sanitary diaphragm valves or view the following sales literature:

Aseptic Diaphragm Valves - Manually Operated
GEMÜ offers a wire range of  products for the biopharmaceutical marketplace. Diaphragm valves are manufactured to the highest standards of quality and precision, offered with 316L stainless steel bodies in a wide range of internal and external finishes. The manual operated range consists of Types 601/602, 612, 653, 673 and others.

Aseptic Diaphragm Valves - Actuated
GEMÜ has an unparalleled range of operators for diaphragm valves. Closely matched to the most varied areas of application, a wide choice of operator types and designs are available. The actuated range consists of Types 605, 615, 625, 687 and others.  

Valve Bodies
GEMÜ provides a large number of different valve body versions and is the market leader for multi-port valves. More than 3000 versions have been manufactured to date and the figure is rising daily, tailored to match our customers' applications. The special feature of all our valve bodies is the circular sealing bead which is integrated in the valve body. It ensures a more precisely defined sealing surface and a lower mechanical stress between diaphragm and valve body. The design, EHEDG approved, reduces the potential contamination from the deadleg found in other designs. Due to their modular construction, operator replacement is normally possible without difficulty.

High Purity Products
Since 1988, GEMÜ has been an industry leader in the production of High Purity valves, measurement and control systems. Our dedication to quality has earned us many loyal customers in the semiconductor industry. Our High Purity products are developed and produced specifically for use in process equipment, ultra pure water and chemical manufacturing and distribution systems - as well as for microchip production. They are produced today under the strictest cleanroom conditions at our manufacturing site in Switzerland. We develop, produce and supply:

CleanStar
UHP PFA valves, measurement and control systems, accessories
Pureplus
A product range including PVDF-HP and PP-HP diaphragm valves as well as PVDF-HP flowmeters 
HydraLine
Pressure measurement devices with PFA pressure transmitters specifically designed for ultra high purity chemicals