EPSILON® Low Spill Coupling System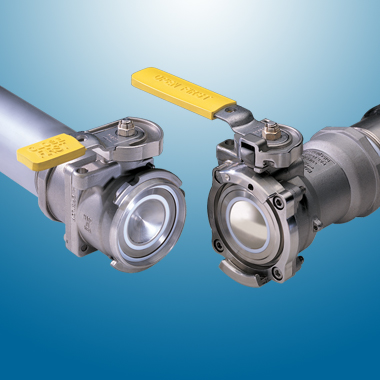 The EPSILON™ Coupling System from OPW Engineered Systems is designed to prevent chemical spills and reduce fugitive emissions of Volatile Organic Compounds (VOC's), particularly in the process facility and during transfer to and from truck tanks. During in-plant chemical transfers, the EPSILON™ Chemical Containment System will provide your plant with process flexibility while improving operator safety, enhancing environmental compliance and reducing overall capital expenditures and operating costs.
EPSILON™ is a low spill coupling, based on a double ball valve system integrating a sophisticated safety design in sizes of 1", 2" and 3". The coupling is designed  to handle pressure up to 435 psi (30 Bar) and temperature up to 450°F (230°C) and is available with end connections complying to ANSI and DIN standards, including sanitary.
All wetted materials are 316/316L stainless steel (1.4401/1.4404) with TFM or PFA seals. Hastelloy® C is also available for use with more aggressive fluids. Beyond the common advantages of a ball valve design, EPSILON™ provides for flow through an unrestricted flowpath and double shut off reliability in the coupling connection.
The following key features set the  EPSILON™ Coupling System apart from alternatives:
Safety:
EPSILON™ coupling is equipped with multiple safety interlocks, which force the valves to open and close only with a deliberate action, preventing accidental opening of the valve.
Environment:
EPSILON™ is a low spill system, specified to less than 1 ml spillage for the 2" coupling (2000 cycles test average 0.6 ml) and less than 0.7 ml for the 1" coupling. Ultra low spill option offers even better no-spill performance.
Maintenance:
EPSILON™ was not only engineered for easy operations, but also for quick replacement of the transfer seal without any lockout. No special tools are required for replacement of seals.
Cross-Contamination Prevention:
Optional keyed couplings mechanically lock out and isolate transfer lines. 
For more information please contact ProcessHQ  or  view: