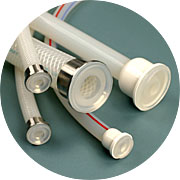 Molded Silicone Assemblies
Platinum-Cured Silicone Tubing and Fittings
Supplied as silicone fittings attached directly to silicone tubing or hose, AdvantaPure's Molded Silicone Assemblies are well-suited for applications involving aseptic transfer, sterile processing, and other critical applications in the pharmaceutical, biomedical, and high purity industries. The assemblies reduce installation time, improve cleanliness, and retain the many benefits of silicone.
KEY FEATURES
Eliminates entrapment issues and leaks associated with barb-type fittings
Provides a smooth inner surface with a seamless transition
Offers consistent interior dimensions for maximum flow rates
Reduces end-user assembly times—arrives ready to install
No product contact with metallic materials
Retains silicone's temperature resistance: -100°F to 400°F
Extremely flexible
Sterilizable by CIP, SIP, and autoclave processes
Certified free of animal-derived ingredients
Imparts no taste or odor to critical streams
Cleanroom manufactured
Sealed in clear polybags during manufacturing process to ensure cleanliness
Documented lot traceable with identification on bags
Documented quality control
The compound used to make Molded Silicone Assemblies has a Master File with the U.S. Food and Drug Administration
Molded Silicone Assemblies are available from AdvantaPure in mini and standard Tri-Clamp® fitting styles and are supplied with male gaskets molded directly to the face of the fitting. Straight-through configurations are produced in sizes up to 1" tube I.D. Protective backup cups, offered in polysulfone or series 304 stainless steel for extra durability, provide a stable clamping surface and safeguard the fittings during installation and use.
All assemblies are custom made to best meet each application's requirements and incorporate either unreinforced silicone tubing or braid-reinforced silicone hose. Working pressure ratings vary depending on product. 
 Download a printable version of the Molded Silicone Assemblies Brochure.
---
BioClosure® Container Closure Systems
Manufactured from USP Class VI, platinum-cured silicone elastomer or from AdvantaFlex® biopharmaceutical grade TPE, AdvantaPure's BioClosure Systems offer the utmost in purity. They're biologically safe and work with vessels of glass, metal or plastic. Stoppers, caps, inserts for True Unions and GL45's, and other styles, with or without tubing, are available.
BioClosure systems are not intended for implantation or continuous steam applications.
KEY FEATURES
Ideally suited for pharmaceutical, biotech, and laboratory environments
Silicone elastomer meets USP Class VI, FDA CFR 177.2600, ISO 10993, European Pharmacopoeia 3.1.9, and other industry standards
Assembled and packaged in a Class 7 (Class 10,000) ISO-certified clean room
Both silicone and TPE are certified free of animal-derived ingredients
Documented lot traceable
For single or repeated use – sterilizable through autoclave or gamma radiation
Single use applications reduce cleaning and validation requirements and costs, plus cross contamination risks
Smooth, gap-free surfaces for a true seal and a secure environment
Longer life expectancy, more consistent performance, and higher purity than parts made from rubber materials
Resistant to cracking and particle migration
No taste or odor transfer
Excellent chemical resistance properties
Silicone withstands temperatures ranging between -100°F (-73.3°C) and 400°F (204.4°C)
Select stopper sizes available; other silicone closures custom manufactured
Certain styles available manufactured from AdvantaFlex® biopharmaceutical grade TPE (thermoplastic elastomer)
For use with flexible container systems, laboratory apparatus and bottles, and sampling and storage receptacles of glass, plastics, or metal
Available with tubing installed
Validation and extractables test portfolios available upon request
The silicone and thermoplastic elastomer compounds used to make BioClosure Systems have a Master File with the U.S. Food and Drug Administration
AdvantaPure's BioClosure Systems are manufactured from pure silicone or TPE that's free of animal-derived components. Your processes stay biologically safe.
 Download a printable version of the BioClosure® Brochure.